The summer months can be tough on your skin. The heat and humidity can leave your skin feeling dry and irritated, and the sun can do some severe damage if you're not careful.
But don't worry. There are plenty of great products that can help you keep your skin looking and feeling its best all summer long.
You've heard about a summer body. Well, here is how to achieve your summer skin!
This page contains affiliate links. This means that if you click a link and buy one of the products on this page, I may receive a commission (at no extra cost to you!)
Why Protect Your Skin During the Summer?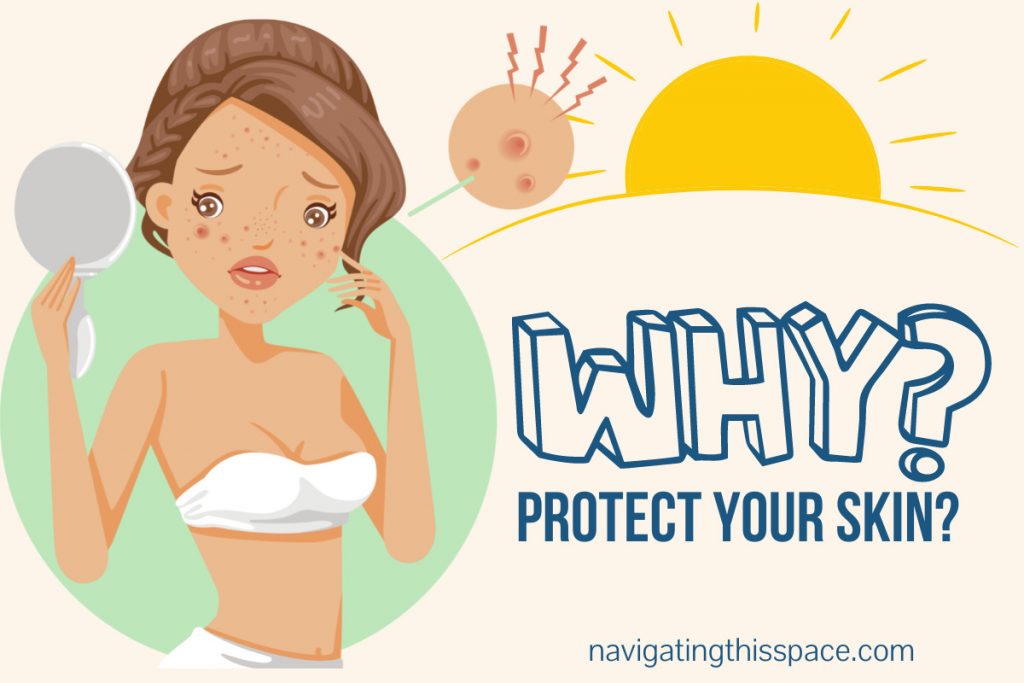 The sun's ultraviolet (UV) rays cause skin damage, including wrinkles, age spots, and an increased risk for skin cancer. The UV rays are at their strongest during the spring and summer months, according to cancer.org; however, that's only true if you don't reside in or visit countries closer to the equator where the rays are strong all year round.
Too much sun can also lead to dehydration, which can make your skin look dull and dry because your organs are in dire need of hydration.
Suggested Article: 8 Ways To Drink More Water and Stay Hydrated All Day
It's important to take a few extra steps to protect your skin when the sun is shining at its brightest, and you're spending more time outdoors.
Here are some of the best skin care products to use during the summer months:
1. Face and Body Wash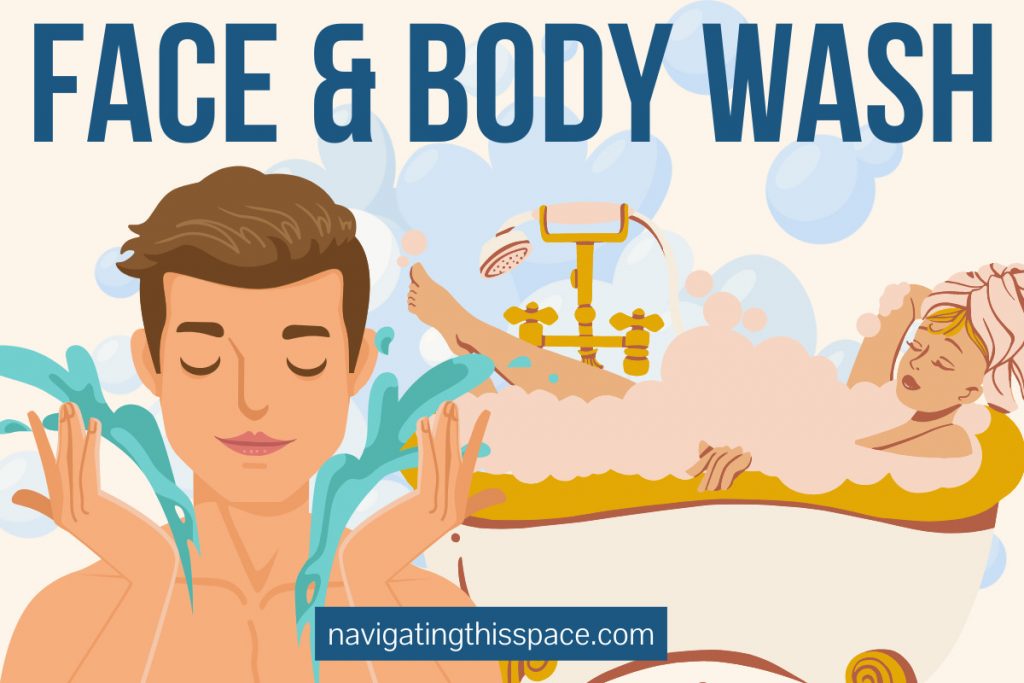 Our skin is the largest organ we carry around.
According to National Geographic, adults carry eight pounds and almost 8 square miles of skin.
It's important to keep your skin clean and free of sweat, dirt, and other impurities that can clog pores and lead to breakouts and other issues.
A good face and body wash is gentle enough to help remove all unwanted buildups on your skin without stripping it of its natural oils.
How To Choose a Face Wash
The skin on your face is more sensitive than the rest of your body, so using the same soap for your body on your face may not be ideal.
When choosing a face wash, look for one designed for your skin type.
If you have oily or acne-prone skin, look for a face wash that can remove the excess oil without leaving your skin feeling dry.
If you have dry or sensitive skin, choose a face wash that is gentle and fragrance-free.
If you have combination skin, experiment away until you find something that is perfect.
My Face Wash Recommendation
This face wash is my go-to face wash because not only is it vegan it also:
Gently removes dirt, makeup, and other impurities

Smells heavenly

Leaves skin feeling refreshed and invigorated

Tough on impurities but gentle on skin
Click here to buy it on Amazon and start feeling the difference between a regular face wash and a great face wash.
Now that we've got the face covered, let's move on to the body.
How To Choose a Great Body Wash
Just like your facial skin, your body also deserves some tender loving care. So your body wash should be gentle enough not to irritate your skin but also remove any dirt, sweat, and impurities that may have built up throughout the day.
Pay attention to your body's skin type because it may be different from your facial skin.
For example:
You may have oily facial skin while your body always screams for moisture.
In that case, using a moisture stripping body wash is only going to leave you feeling itchy and dry.
My Body Wash Recommendation
This body wash leaves my skin feeling soft, refreshed, clean, and moisturized.
It also:
has plant-based ingredients, botanical extracts, and pure essential oils

is GMO-free, cruelty-free, gluten-free, and synthetic fragrance-free

the bottle is made from recycled material

comes in a big bottle, so it lasts a long time
Click here to buy it on Amazon and experience what it feels like to wash with a soap that was made with you in mind.
2. Exfoliator
Removing dead skin cells and dirt buildup helps unclog pores, prevent breakouts, and give your skin a polished appearance.
Exfoliating also allows your other skincare products to penetrate deeper into your skin for better results.
How Often Should You Exfoliate?
As a rule of thumb, you should only exfoliate once or twice per week. And, yes, that means your face and entire body but not necessarily on the same day.
If your skin is feeling a little extra dry or sensitive, you may want to reduce the frequency of your exfoliation.
Exfoliating more than necessary can actually do more harm than good by irritating and stripping your skin of its natural oils, which causes irritation.
How To Choose an Exfoliator
Knowing what type of roughness you prefer and what type to use on your face and body is key in choosing a scrub.
According to the American Academy of Dermatology, you can use two types of exfoliators at home: mechanical and chemical.
Mechanical Exfoliator
A mechanical exfoliator is a physical tool like a brush, sponge, rag, or scrub that you can use to remove dead skin cells.
The benefit of using this type of exfoliator is that you can physically see and feel the dead skin being removed from your body.
However, if you are too rough you may end up irritating your skin, instead of helping it.
Chemical Exfoliator
A chemical exfoliator uses chemicals like acids to gently dissolve dead skin cells.
This type of exfoliator is often more effective than a physical exfoliator because it can penetrate deeper into the skin.
However, you need to be careful when using this type of exfoliator because if you use it too often or leave it on for too long, it will damage your skin.
My Face Exfoliator Recommendation
Dermalogica Daily Microfoliant
This exfoliator is a mechanical and chemical exfoliator in one, which is a plus.
It is gentle enough to use every day and will leave your skin feeling smooth and looking brighter.
It also:
is vegan friendly, cruelty-free, gluten-free, and uses no artificial fragrances or coloring

calms the skin while removing impurities

uses papaya enzyme and salicylic acid to exfoliate

is rice-based, so it is gentle on the skin
Click here to buy it on Amazon and give your skin the exfoliation it deserves.
My Body Exfoliator Recommendation
This exfoliant brush set eliminates the need for a regular sugar or salt body scrub. Even though those types of scrubs feel wonderful to use, having something that will last longer is better for your wallet and the environment.
This set includes:
a soft bristled face brush

a medium bristle body brush

exfoliating shower gloves

a travel bag to store it all in
It's also:
vegan friendly

Exfoliates without scratches

stimulate your lymphatic system, which aids in blood circulation

rejuvenates and revitalizes your skin
Click here to buy it on Amazon and give your skin the luxury treatment it deserves.
3. Toner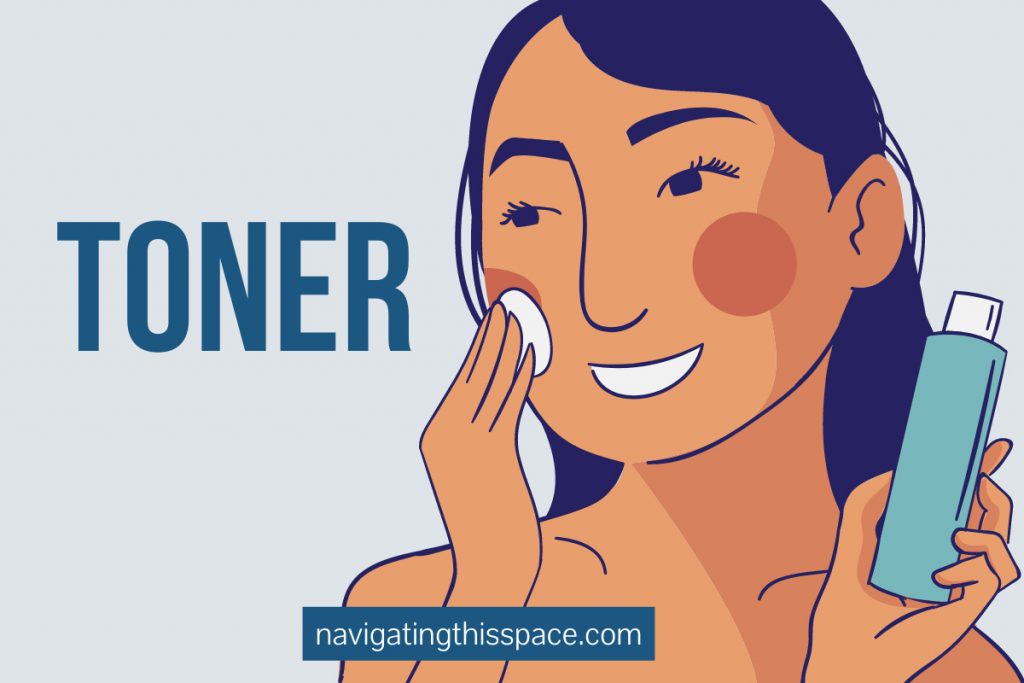 Toner is an important step in any skincare routine because it's the final step in removing impurities and makeup that your cleanser may have missed.
According to Dermatology Times, toners were invented to help remove the residue of soap scum and hard water left behind on the skin after cleansing.
It also balances the pH level of your skin, shrinks the appearance of pores, and hydrates your skin.
Even though some may believe that toners are not necessary, a great toner can make a big difference in the appearance of your skin.
How To Choose a Toner
When choosing a toner, it is important to consider your skin type.
If you have dry skin, you will want to choose a hydrating toner that contains ingredients like hyaluronic acid or Vitamin E.
On the other hand, if you have oily skin, you will want to choose a mattifying toner that contains ingredients like witch hazel or tea tree oil.
My Toner Recommendation
Dickinson's Enhanced Witch Hazel Hydrating Toner with Rosewater
This toner is perfect for all skin types because it contains witch hazel and rosewater.
Witch hazel is a natural astringent that helps remove excess oil and shrink the appearance of pores. Rosewater is a natural anti-inflammatory that soothes and hydrates the skin. Plus, there's just something special about the smell of rose water.
This toner also:
removes impurities, refines pores, and moisturizes skin

has ingredients like Hyaluronic Acid and Vitamin E to help skin retain moisture

is alcohol-free, sulfate-free, and paraben-free

gentle enough to be used multiple times per day on the face
Click here to buy it on Amazon and give your skin the refreshing treatment it deserves.
4. Facial Serum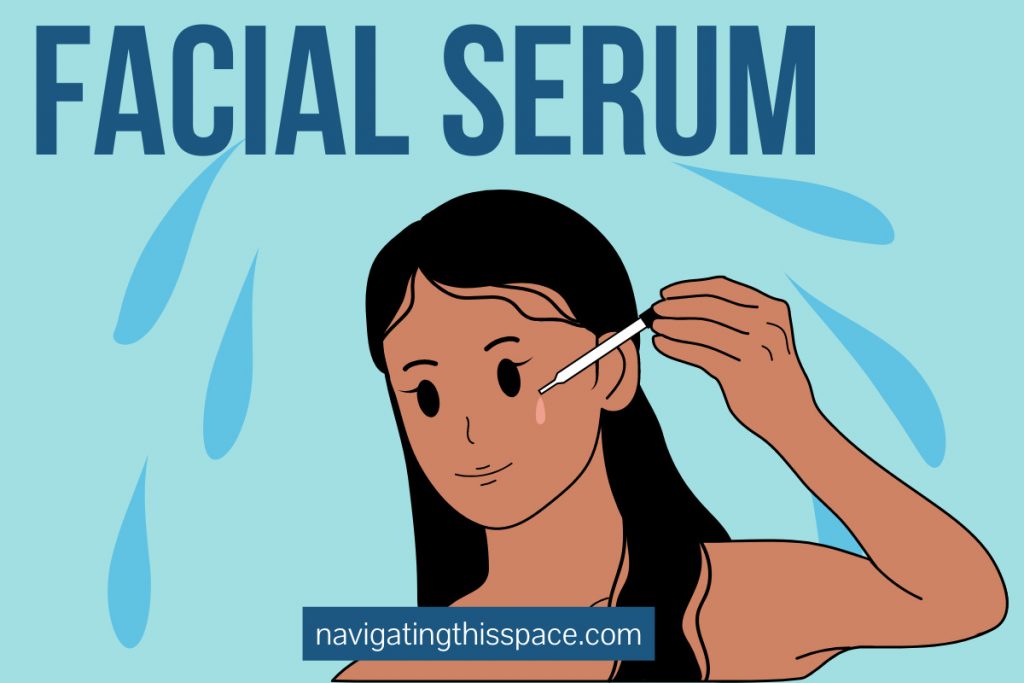 A facial serum is a concentrated formula designed to penetrate the deeper layers of the skin.
They are usually lighter in consistency than a moisturizer, and they are packed with active ingredients that target specific skin concerns.
Some common serums include Vitamin C, retinol, and hyaluronic acid.
How To Choose a Facial Serum
When choosing a facial serum, it is important to consider your specific skin concerns.
For example:
If you have dry skin, you may want to choose a hydrating serum that contains ingredients like hyaluronic acid or glycerin.
If you are concerned about fine lines and wrinkles, you may want to choose an anti-aging serum that contains ingredients like retinol or niacinamide.
My Facial Serum Recommendation
Poppy Austin Pure Hyaluronic Acid Serum
This hyaluronic acid serum has the most percentage of hyaluronic acid than any other product I've seen.
Hyaluronic acid naturally occurs in the body. According to the National Institute of Health, it is a key ingredient in skin moisture. It basically binds and retains water molecules, which means that it is incredibly hydrating.
I've seen and felt the difference in my face after using this product for just a few days.
My skin is more hydrated, and I never need to reapply moisturizer.
This product also:
refreshes sun-damaged skin with plant-based vitamins and natural antioxidants

is free from artificial fragrances, parabens, alcohol, and silicone

moisturizes on a deeper level

improve skin elasticity
Click here to buy it on Amazon and give your skin the nourishment it deserves.
5. Eye Cream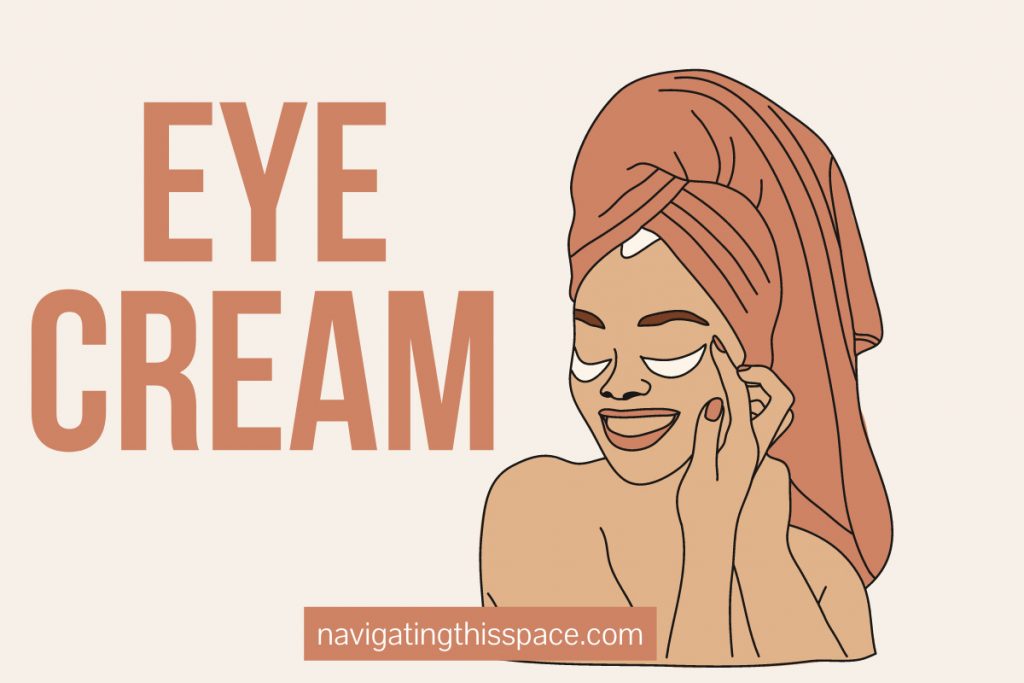 It's easy to forget that the skin around our eyes needs special attention because it is thinner and more delicate than the rest of our faces.
The skin around our eyes is also more susceptible to showing signs of aging, like fine lines and wrinkles. It's also the first place to show signs of dehydration and fatigue.
That's why it's important to use an eye cream specifically formulated for the delicate skin around your eyes.
How To Choose an Eye Cream
When choosing an eye cream, it is important to consider your specific concerns.
For example:
If you are concerned about fine lines and wrinkles, you may want to choose an anti-aging eye cream that contains ingredients like retinol or niacinamide.
If you are concerned about dark circles, you may want to choose an eye cream that contains ingredients like vitamin C or caffeine.
My Eye Cream Recommendation
This eye cream contains a blend of safe, natural ingredients specifically chosen for their ability to brighten, tighten, and smooth the delicate skin around your eyes.
It also:
Uses pomegranate as an ingredient to fight ultraviolet rays effects & even skin tone

moisturizes and hydrates the skin

is free from artificial fragrances, parabens, and sulfates, and it is always cruelty-free

the new tube packaging is made of sustainably harvested sugarcane plastic.
Click here to buy it on Amazon and give your eyes the attention they deserve.
6. Moisturizer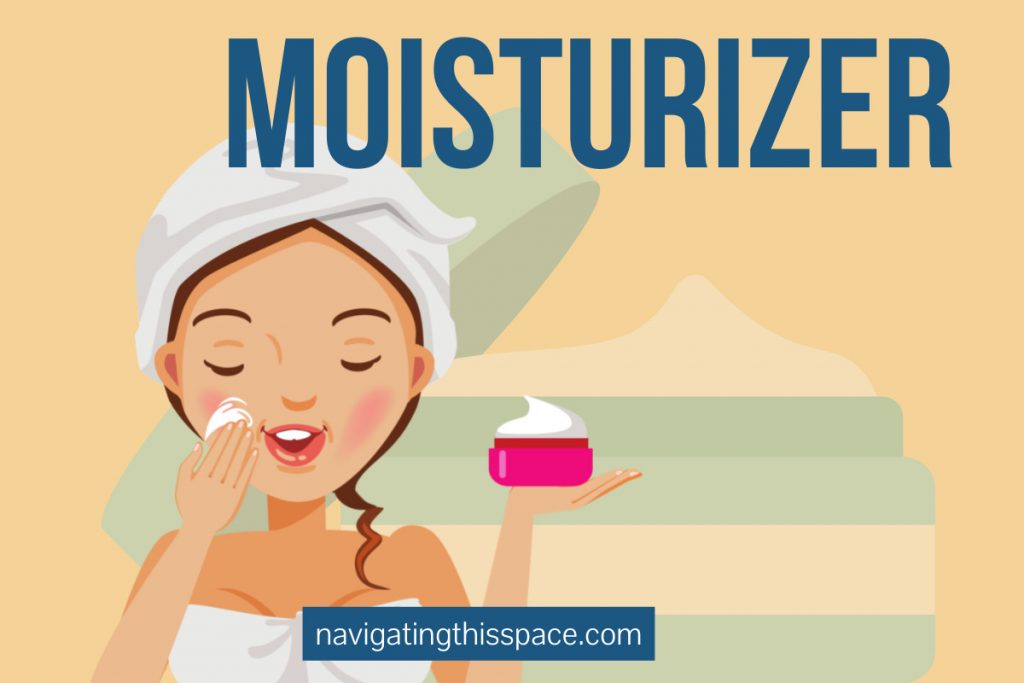 According to Harvard Health, the best way to soften skin is to soak it in water and apply an oily substance to keep the water in the skin.
Since most people towel dry before they apply moisturizers, they're removing much of the water that could be retained in their skin.
Moisturizers are creams and oils that help retain the water molecules in your skin. Depending on the ingredients, they can also help soothe, protect, and repair your skin.
How To Choose a Moisturizer
When choosing a moisturizer, pay attention to the first ingredient listed on the label.
This is because the first ingredient listed is the one that is present in the largest quantity.
The first ingredient must always be water, since water is truly the only thing that can moisturize your skin.
The other ingredients must act as a seal to provide a way to keep the water in your skin and provide the benefits you're seeking from the moisturizer.
For example:
If you are looking for a moisturizer that will help soothe your skin, you may want to choose one that contains ingredients like aloe or chamomile.
My Face Moisturizer Recommendation
As you may have noticed, I absolutely love the brand Pacifica. Their products are wonderful, all vegan, and cruelty-free.
This face lotion is no different; it's a light and refreshing lotion that is perfect for summertime.
It also:
seals skin cracks and helps prevent moisture loss

Is made with plant-based ingredients that helps restore the natural protective barrier of the skin

Contains mushroom roots that soothe skin

Fragrance-free, so it's perfect for those with sensitive skin
Click here to buy it on Amazon and give your face the hydration it needs this summer.
My Body Moisturizer Recommendation
The Lotion Company 24 Hour Skin Lotion
With plenty of fragrances to choose from, this body moisturizer ticks all the boxes. The first ingredient listed is water which is always a good sign. However, it's best to use it on damp skin to lock in as much moisture as possible.
This moisturizer:
Is owned by a father and daughter and handmade in Indiana

Contains aloe vera, vegetable-based glycerin, macadamia nut oil, and sesame seed oil to soothe and protect the skin

Is free from harsh chemicals, petroleum, and parabens, and it is cruelty-free

Has a light, non-greasy formula that is perfect for summertime
Click here to buy it on Amazon and moisturize your body the right way this summer.
7. Sunscreen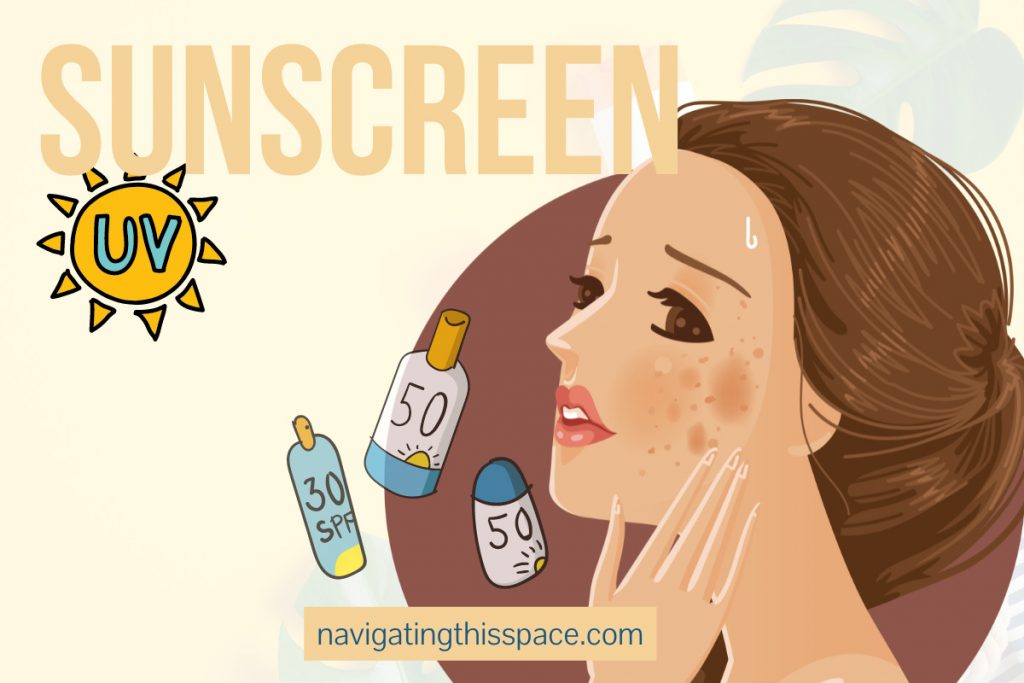 This should be a no-brainer, but there are a lot of people who simply do not know that they should be wearing sunscreen. To make matters worse, there are others who completely reject the idea of protecting their skin from the elements.
No matter how dark or light your skin color, you need to wear sunscreen.
If you're not willing or able to stay indoors or in the shade between 10 a.m. and 4 p.m., wear clothes that cover your skin, and a hat to cover your face and head, then wearing sunscreen is the best way to protect your skin from the sun's harmful rays.
A study on the effectiveness of sunscreens revealed that 15 years after its completion, people who used sunscreen every day during the 4.5 years of the experiment showed a reduced risk of developing melanoma, which is associated with skin cancer.
I remember when I started including sunscreen in my skincare routine as a teenager, and the difference in my skin tone was drastic. My uneven skin tone was rapidly improving and the realization that the sun was responsible for my uneven skin was a total game-changer. I made sure I never left home without sunscreen on, or I had a small bottle in my bag for the days I forgot to apply, even during the winter months.
How To Choose a Sunscreen
According to The American Academy of Dermatology, everyone should use sunscreen that offers:
Broad-spectrum protection (protects against UVA and UVB rays)

SPF 30 or higher

Water resistance
These are the main components a sunscreen should have; everything else is relatively optional.
If you want to avoid sunscreens that leave a white residue, avoid the ingredients zinc oxide and/or titanium dioxide.
From experience, finding a sunscreen that doesn't turn me into a ghost or one of the blue guys was next to impossible. But, I found one with the help of my cousin, who recommended a water gel-based sunscreen, and I'm never going back.
My Sunscreen Recommendation
Neutrogena Hydro Boost water gel lotion SPF 50 sunscreen has been a true game-changer.
It goes on clear and becomes invisible,

is water-resistant,

has broad-spectrum protection

has SPF 50, which is higher than 30
As a bonus, it keeps my skin feeling hydrated, unlike the other sunscreen I've used that has made my skin feel like crumbled paper.
Click here to buy on Amazon and give your skin the protection it needs and deserves.
Bonus Recommendation: Lip Balm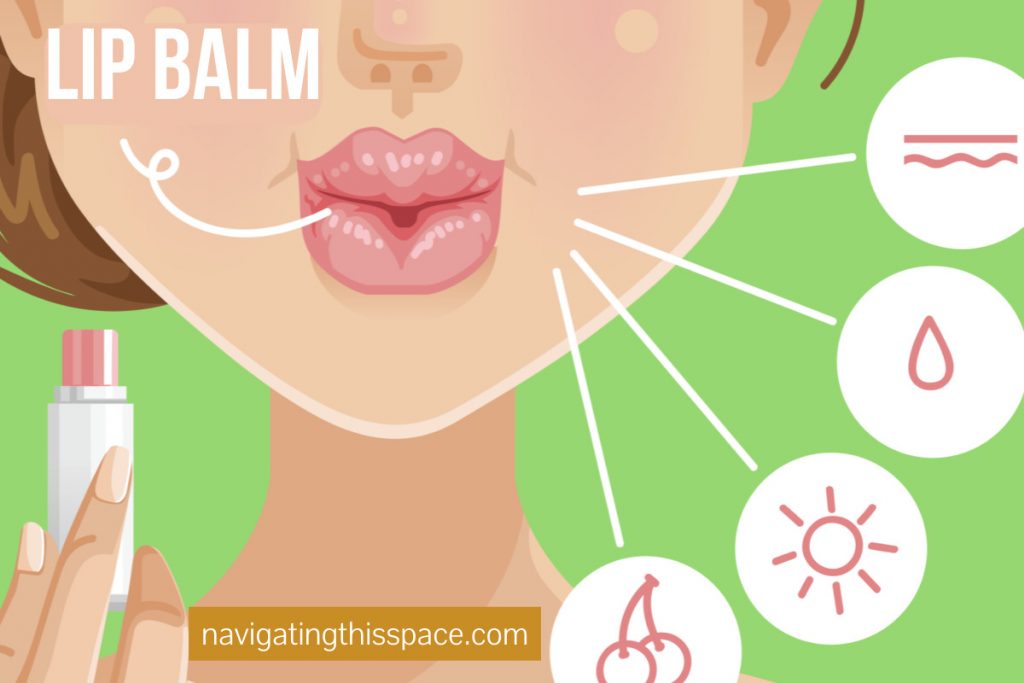 Here's a fun fact about your lips; they don't have sweat glands or fat glands, which means they can't protect themselves from the sun, wind, and cold weather.
Plus, the skin on your lips is thinner than the rest of your face, and you have a recipe for disaster.
Chapped lips are not only painful, they're also annoying. Wearing a lip balm, preferably one with SPF will help protect your lips from the sun and keep them hydrated.
My lips have a tendency to get really dry, chapped, and start to peel no matter the time of year so I was on a never-ending hunt for the perfect lip balm.
The lip balm that I use now had to be flavorless because I have a tendency to eat whatever is on my lips, and I needed something that would provide long-lasting hydration.
I'm happy to report that I've finally found the perfect lip balm for now.
My Lip Balm Recommendation
This lip balm has helped my lips look like lips and not something from a horror movie.
It's also helped prevent my lips from peeling. Best of all, it's flavorless, so I don't have to worry about eating it.
I like to apply it before bed so the moisture can seep undisturbed to the deeper levels that it needs to be. But, I constantly move during sleep, so it doesn't always work out that way.
If you want to give this lip balm a try, click here to buy it on Amazon, it's helped bring my lips back to normal. Maybe it can help you too.
Don't Neglect Your Biggest Organ This Summer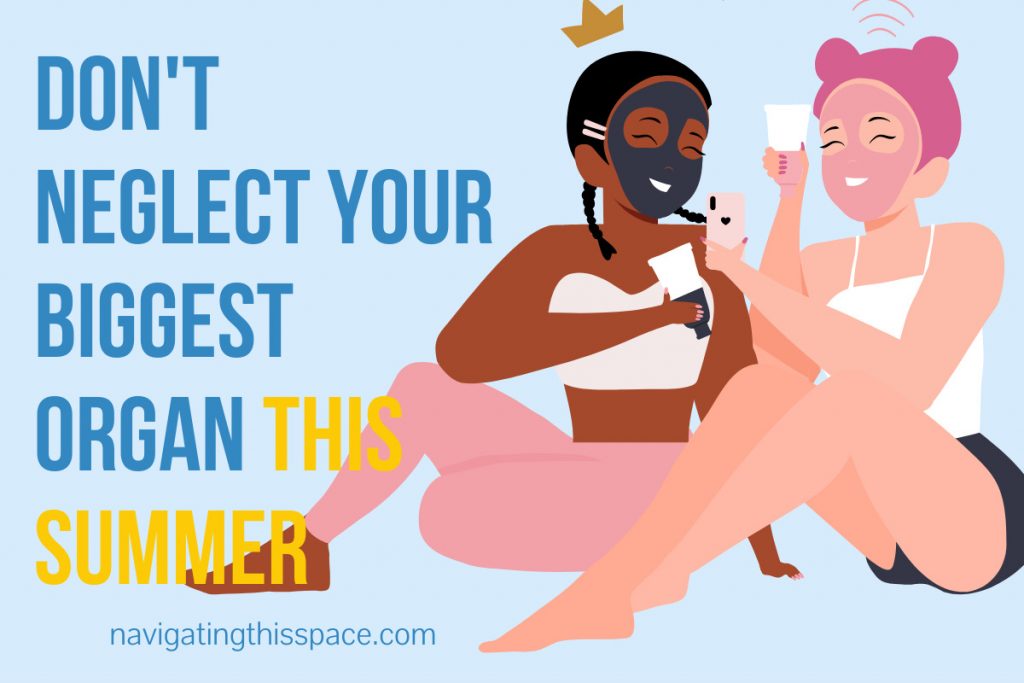 Summertime should be carefree and fun, but don't let the lightheartedness of the season make you forget to take care of your skin.
Your skin is your body's biggest organ, and it needs to be protected from the harmful effects of the sun.
I hope this blog post helped give you some ideas on what products are out there and how to find ones that work for you.
What products do you swear by during the summer? Leave a comment below and let me know.
Don't forget to sign up for my newsletter to stay up-to-date on the latest post.
If this blog post was helpful, please share it with your friends. Sharing is caring, after all.
Questions You May Have
What should I put on my face in hot weather?
Water-based products are ideal for hot weather because they don't add to the already present oil on your skin. Mists, gels, and serums are all good choices.
Which product is best for my skin in summer?
During the summer, you should put on sunscreen with SPF 30 or higher to protect your skin from the sun's harmful rays. You may also want to use a lip balm with SPF to protect your lips from the sun.
How do you take care of your skin in a hot climate?
When it's hot outside, your skin can become dry and irritated. To help combat this, drink plenty of water to stay hydrated and use water-based products designed to soothe, hydrate, and protect your skin.
How can I hydrate my skin in summer?
Drinking plenty of water is the best way to hydrate your skin from the inside out. You can also use water-based products that contain Hyaluronic Acid, glycerin, and vitamin E which are all substances that help your skin retain moisture.
Pin It!